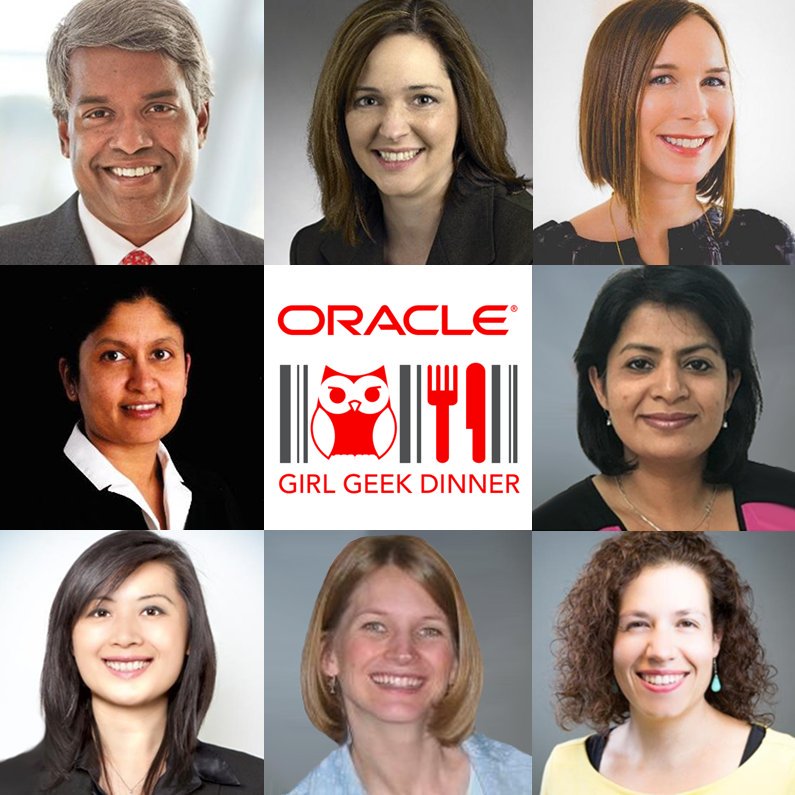 Oracle hosted its first Girl Geek Dinner last Thursday, December 7, 2017. The dinner was 18 months in the making. With at least 400 women and men in attendance, it is the largest Girl Geek Dinner of the year.
@Oracle hosted our 1st @BayAreaGGD with over 400 participants. As Thomas Kurian, Pres of Oracle said in his keynote, Oracle supports women & all diversity because we never know who the next innovator is – who is that person that can envision the future when it doesn't exist today pic.twitter.com/FRR9o5MNJi

— Maria Kaval (@KavalMaria) December 8, 2017
The Bay Area chapter of Girl Geek Dinners have been hosted at 100+ Silicon Valley tech companies, since Google hosted the first event of 400+ women in tech in 2008. The community which attend these events are generally interested in learning about new technology, meeting other women in tech, and hearing fellow girl geeks share thought leadership in areas of STEM as well as career advice onstage. These dinners are meant to connect women across companies large and small for networking and recruiting.
The premise is simple. The host company buys dinner and drinks for the girl geeks. Female speakers are invited to speak in their area of expertise. Networking amongst the girl geeks and recruiting by the host company is encouraged. All attendees leave with a co-branded gift to extend the lifetime of the event.
#OracleGirlGeekDinner executives & leaders panel of product & tech sharing insights on inspirating women, importance of culture, mentorship for the long-term, finding your superpower/passion… moderated by @Oracle VP Engineering Maria Kaval pic.twitter.com/MXlqR3T2Jn

— Girl Geek Dinners ❄️ (@BayAreaGGD) December 8, 2017
Leor Chechick of Oracle Women's Leadership group (OWL) invited Thao Nguyen and I to join the planning committee 5 months before the day of the event.
We had grand plans for the event. It was our first Oracle Girl Geek Dinner and we wanted to run top speed right out of the gate! This meant hosting 400+ girl geeks, commissioning an Oracle x Girl Geek cake, inviting very smart and articulate Oracle women speakers, showing exciting demos, and giving lots and lots of co-branded swag.
The planning committee was in need of a designer to create the co-branded logo for our promotion pieces. User researchers don't do much design work and so I jumped at the opportunity to learn Sketch and logo work (Illustrator is still best if you want to create print design and use PSD mockups). Here were the wants and needs:
Adhere to the Oracle branding guidelines
Emphasize the Oracle first, OWL second.
Customize the Girl Geek Dinner logo with an Oracle theme or mascot.
Looking through co-branded artwork from past Girl Geek Dinner events, I decided on substitute the girl in the bay area girl geek logo for an owl to represent our Oracle Women Lead. This way we can keep the ORACLE logo on top.
In high school, I designed and manually screened T-shirts as part of an entrepreneurship course that gives students a hands-on experience running a business. It was exciting to revisit that part of my life when I was asked to create the t-shirt and tank top designs as well as the signage!
Here is a picture of some of the signage:
The Emerging Technologies Team ran two fun demos at the event: Dueling IoT Wands and Gesture Controlled Robot Arm. Both demos highlighted our investment into research and development by building and experimenting with new consumer and enterprise technologies. Thao did a great job wrangling the demos together and connecting Leor to the right people to ensure the best set-up possible.
Raymond Xie and I manned the Dueling with IoT Wands table. About 40 rounds were played the the girl geeks within the 90 minutes we had with them.
Mark Vilrokx, Shannon Whiteman and Thao Nguyen manned the Gesture Controlled Robot Arm. We demonstrated how remote surgery is very very far from being a reality. This was by far the most popular demo at the event. Crowds formed around the table as girl geeks cheered each other on.
Every girl geek received a stamp as a thank you for coming to our demo table. As another thank you, the girl geeks received a black tank top for visiting at least two demo tables.
And here is the front of the passport:
https://www.instagram.com/p/BccnL8VFA-L/?tagged=oraclegirlgeekdinner
Missed out on the Oracle Girl Geek Dinner? Check out the video below courtesy of Alexa Weber Morales 🙂